Nigel Slater's classic spaghetti alla puttanesca recipe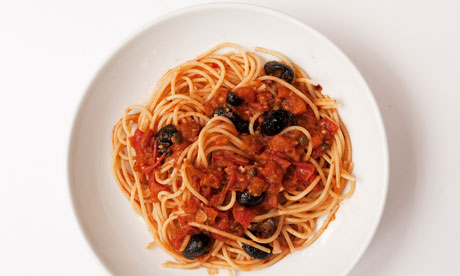 Nigel's deliciously hot and salty spaghetti alla puttanesca recipe. Photograph: Jonathan Lovekin for the Observer
This quick supper dish should be salty, piquant and hot. The saltiness comes from anchovies and olives; the piquancy from the tomatoes and the effect of the capers; the heat from dried chilli flakes. Spaghetti puttanesca is not a genteel dish – it should in fact be a little coarse and the flavours should explode in the mouth. It is the best of all standby dishes, ready in minutes and made from ingredients you probably have.
THE RECIPE
Serves 4
2 cloves garlic
½ tsp dried chilli flakes
8 anchovy fillets
4 tbsp olive oil
800g chopped tomatoes
500g dried pasta
100g black olives
1 tbsp capers
Warm 2 thinly sliced cloves of garlic, half a tsp of dried chilli flakes and 8 chopped anchovy fillets in a frying pan with 4 tbsp of olive oil. Stir as it cooks for a couple of minutes until the anchovies start to disintegrate. Turn up the heat and add 800g chopped tomatoes. Leave to cook for 20 minutes or so. Cook 500g of pasta in deep, furiously boiling, generously salted water for about 9 minutes (check the packet). When the sauce is ready, stir in 100g of black olives and 1 tbsp of capers, then toss with the lightly drained pasta.
THE TRICK
Don't be timid: this is a big, gutsy sauce and demands boldness in the cook. Yes, it's a little sharp and hot and salty, and that is exactly how it should be. The best anchovies to use are the salt-packed variety, rinsed and patted dry. The bottled version is a little too mild, though it will, of course, do. You can use canned tomatoes – most Italians do. Go for Napolina. No Parmesan is necessary. It would be an overdose of salty notes.
THE TWIST
The best versions stick to this recipe, but there is a twist that involves including pieces of tuna dropped into the pan after the anchovies have started to break up.